Portfolios and Additional Analysis
Bloomberg Tax includes _Tax Management Portfolios_™ for Federal, State, Accounting, and International Topics. Tax Practice Series covers every major federal tax topic. Additional analysis includes Treatises, Federal Tax Guide, and more. See Print an Entire Portfolio for information on obtaining a hard copy of an entire Portfolio.
View the following 1.6 minute video to learn about Navigating through Portfolios.
BNA Portfolios
Tax Management Portfolios ™ are written by leading tax practitioners and cover virtually every tax topic with deep analysis, real world examples, working papers, and the perspectives you need to make informed decisions.
Find Portfolios for all Practice Areas in the Expert Analysis frames. The broad subject areas are:
FEDERAL
U.S. Income Portfolios Library

Income Tax Accounting
C Corporations
Compensation Planning
Corporate Returns and Computation of Tax
Income, Deductions, Credits and Computation of Tax
Natural Resources
Other Pass-through Entities
Procedure and Administration
Partnerships
Real Estate

Accounting for Income Tax
Estates, Gifts and Trusts
STATE
State Tax Portfolios Library
Sales & Use Tax Portfolios Library
INTERNATIONAL
Foreign Income Portfolios
U.S. International Portfolios Library
Country Portfolios Library
To use Portfolios, menu-walk through the content by clicking the plus signs

.
To search within a Portfolio, select the Portfolio title and enter your search term in the text box. [Enter] or click the Search button

.

To share a Portfolio section, click the Save for Later icon

 or the Document Tools to display the Print/Download, Email and Save Document to Workspace icons. Click the appropriate icon to share the Portfolio section.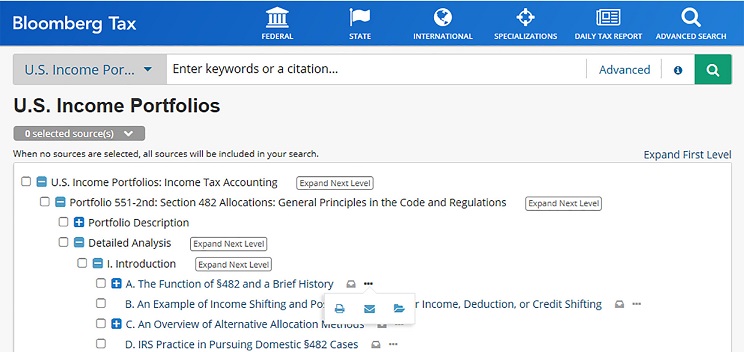 To  print an entire Portfolio, click the Print/Download icon

and select Download the entire Portfolio in the Download dialog box.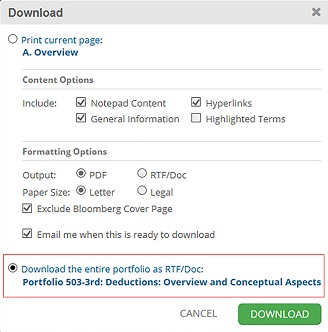 Tax Practice Series
The Tax Practice Series is a federal tax library that covers the full spectrum of federal tax, organized within 300 chapters that include expert-written analysis, examples and practice tools. Written by leading federal tax authorities, the Tax Practice Series covers virtually every taxation topic, from gross income and deductions to S Corporations, exempt organizations, and foreign taxation.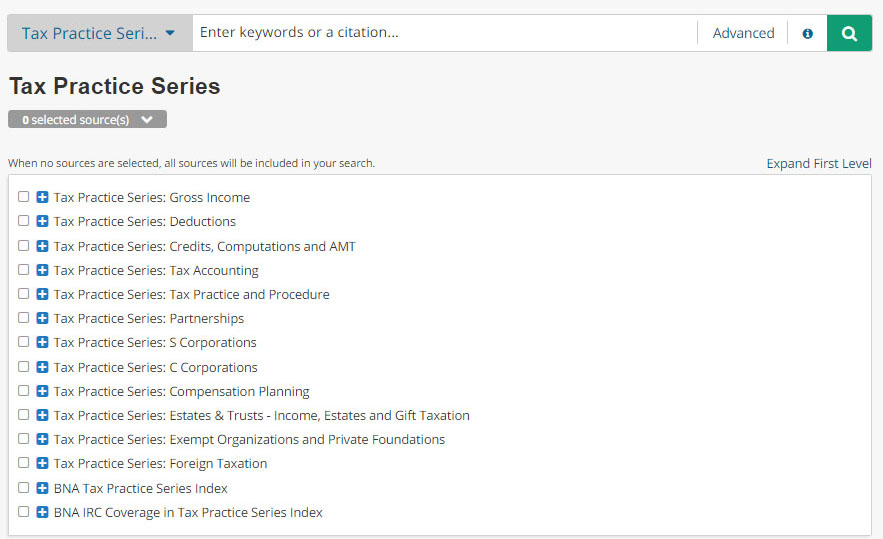 Federal Tax Guide
The Federal Tax Guide is a quick reference tool for the preparation of individual and business tax returns. It is written in easy-to-understand language, and is supported by numerous examples and citations to underlying authority, as well as cross-references to Tax Management Portfolios™ and Tax Practice Series chapters. The Federal Tax Guide is organized by topics, and covers taxation of individuals, corporations, partnerships, and exempt organizations. The Schedules & Tables section of the Federal Tax Guide includes tables, worksheets, charts, checklists, diagrams, and flowcharts.

Treatises
Bloomberg Tax includes additional insight with book and treatise titles including Family Wealth Transition Planning (Wiley), Getting the Deal Through, and Section 409A Handbook and more.
Click Books and Treatises in the Expert Analysis frame and display the list of available books and treatises. Click a title to view the text.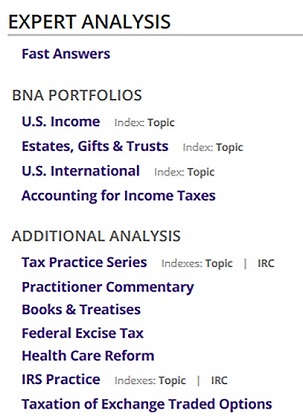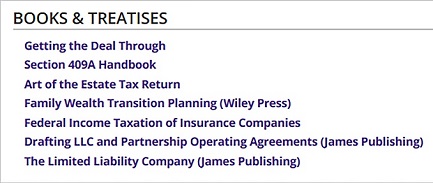 Federal Excise Tax Navigator
Find the Federal Excise Tax Navigator on the Federal Expert Analysis frame.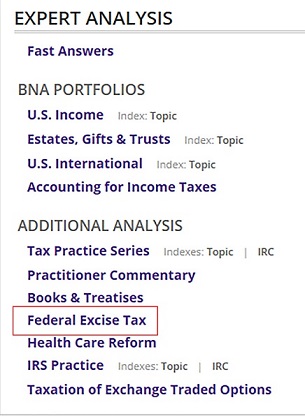 The Federal Excise Tax Navigator is arranged topically, provides an explanation of the tax and provides linked citations for Excise Tax legislation and IRS Documents.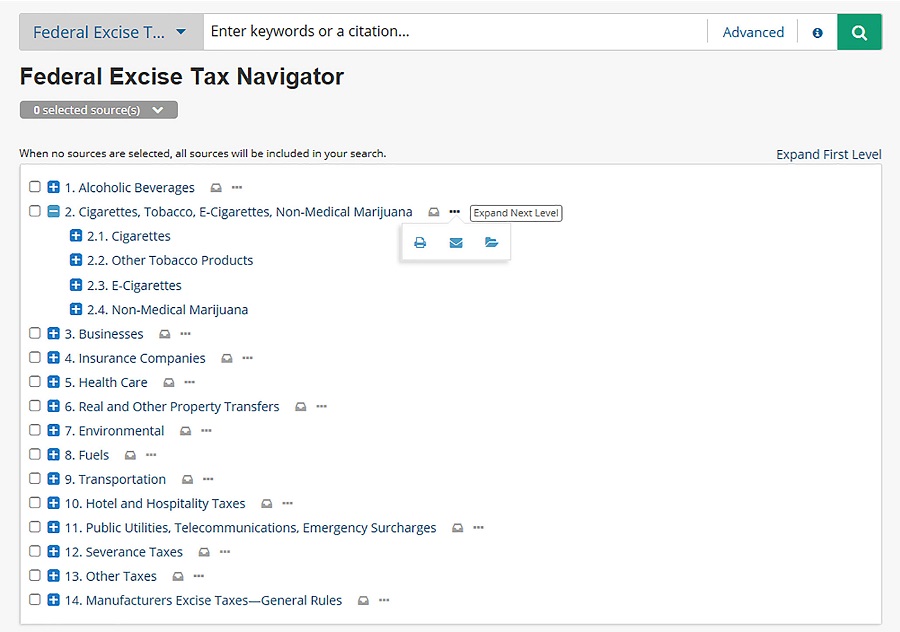 Health Care Reform Adviser
The Health Care Reform Adviser compiles the relevant Expert Analysis, Practice Tools and State Law Summaries in one easily accessible location.
Link to the Health Care Reform Adviser from the Expert Analysis frame on the Federal tab.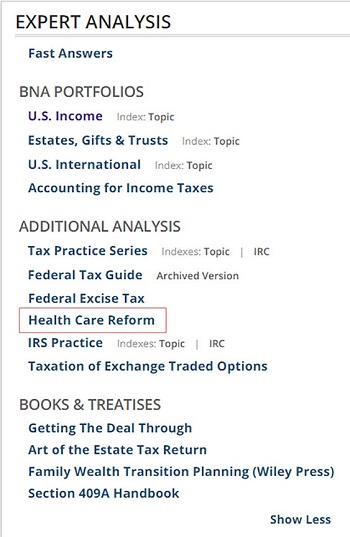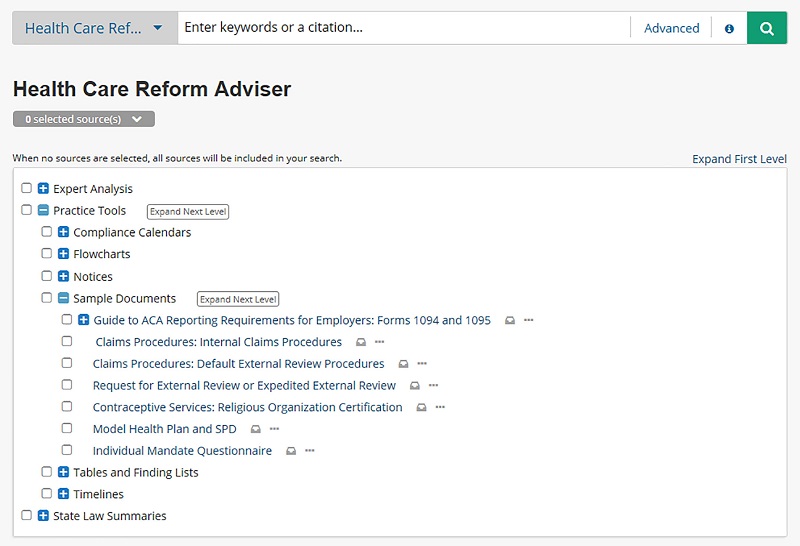 IRS Practice Adviser
Use the IRS Practice Adviser for information about the Internal Revenue Service including: Audits, Appeals, Partnership Audits, Assessment, Refunds, Interest, Penalties, Collection, and Tax Litigation. The Adviser also includes topic and I.R.C. indices.
Link to the IRS Practice Adviser from the Expert Analysis frame on the Federal tab.